Mothers appreciate our enhancements to the breastfeeding journey, which make it easier and more convenient for them.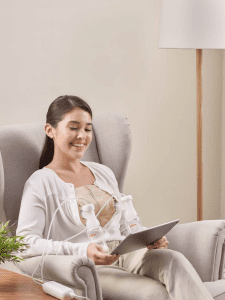 Pigeon GoMini™ help empower moms by offering a modern breastfeeding lifestyle. Providing convenient and easy-to-use when moms are on the go, in the office, or anywhere.  A design with a simple philosophy of 'There's no Stopping Mums', GoMini™ Electric Breast Pump is designed to help breastfeeding mums, especially working mums to achieve a successful breastfeeding journey seamlessly.
Portability is an essential consideration factor for breastfeeding moms.
This GoMini™ pump is very light and easy to handle. The compact and lightweight pump is similar to 8 large strawberries. This portability design makes it easy to take with you on the go.
Usability and Versatility are important consideration factors for any product, even more so for moms that are new to breastfeeding. 
The intuitive one-hand operation makes it easy to use. Design with aesthetics, the Power ON is indicated by the floral LED. This  GoMini™  is compatible with all Pigeon Wide & Slim Neck Bottles. And is compatible with any power bank and DC power adaptor. The easy Switch between the Stimulation and Expression modes makes it easy to get the perfect level of stimulation and expression to get your liquid gold flowing while ensuring comfort.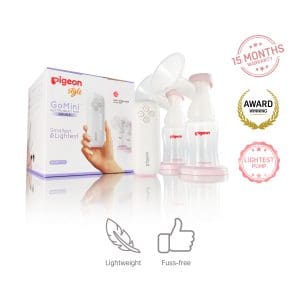 Protecting and soothing the breast and mind
It's common for breastfeeding mothers to experience sore and painful nipples over time, as the breasts are frequently latched onto and pumped.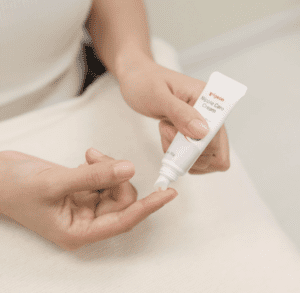 Before pumping, Moms can apply some Nipple Care Cream that contains Halal certified Pharma grade lanolin. To ease any discomfort, protect and calm sensitive nipples. The cream can help to soothe and heals, and can also be applied to protect dry cracked skin. 
Moms' bodies are amazing and what they can do with their milk production is truly incredible. We help moms work through their reflexes related to lactation, making the most of all that mother's liquid gold. Breastfeeding is a team effort and should be supported by friends, family, and other members of the community. We partner with respected breastfeeding experts to provide support and guidance for new moms. 
Pigeon GoMini™ help empower moms
---
---