Becoming a new parent is an experience full of excitement, anticipation, and love. However, for busy working parents, balancing work and home life can be a real challenge. The constant juggling of responsibilities can leave parents feeling overwhelmed, exhausted, and stressed out; which is why it's important to obtain the right baby products to help you save time, reduce stress, and ensure your baby receives the best care possible.
The Must-Have Newborn Baby Products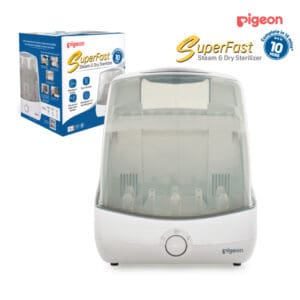 Pigeon SuperFast Steam Sterilizer & Dryer 
Keeping your baby's feeding items clean and hygienic is top priority for parents. When your little one is fussing for milk, you don't want to be stuck with clean but wet bottles. 
This is where the Pigeon SuperFast Steam & Dry Sterilizer is going to come in clutch. It only takes 15 minutes to complete a full cycle of sterilization, with a drying speed of 10 minutes that allows air flow directly to each bottle. Microbiologically tested, the sterilizer uses high-temperature steam to effectively eliminate 99% of harmful germs and bacteria, ensuring the baby bottle and accessories inside are safe to use. 
On top of that, its large capacity is able to hold up to 6 Pigeon wide-neck bottles and accessories, or even the breast pump parts. With three cycle modes available at the touch of a button, the Pigeon SuperFast Steam & Dry Sterilizer makes it convenient to choose whichever mode that suits your needs  (Auto, Steam or Dry). Best of all, the content of the sterilizer remains sterile for up to 24 hours while unopened, so you don't have to worry about constantly sterilizing. 
Compared to traditional methods like boiling water or using chemical solutions to ensure the baby bottles are sterilised, the Pigeon SuperFast Steam Sterilizer & Dryer is worth considering for your peace of mind.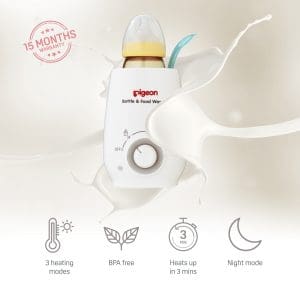 Pigeon Bottle & Baby Food Warmer 
The Pigeon Bottle & Baby Food Warmer comes with a range of unique features that make it a must-have for any parent. Whether you need to warm up breast milk, formula, or baby food, this warmer can do it all. The warmer is designed to maintain the optimal temperature of milk or food while preserving its nutrients. It fits bottles of all sizes and offers three heating modes to cater to different needs – Keep Warm Mode, Heating Mode, and Rapid Heating Mode. With its ability to control the temperature, the warmer is a perfect addition to ensure that your baby's milk or food is always at the ideal temperature.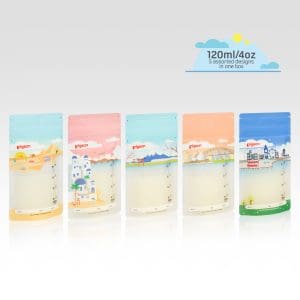 Pigeon Breastmilk Storage Bag
Breastfeeding can be challenging for a new mama; whether your yield is high or low, you're going to need a couple of good quality breastmilk storage bags to store your liquid gold. At Pigeon, we have created breastmilk storage bags that are cute and functional. The bags are made with a thicker plastic to ensure durability and secure sealing at the sides to prevent any leakage. They also come in fun and colourful designs such as holiday destinations and animal prints; both designs can hold up to 120ml and 180ml of liquid gold respectively. The storage bag also features an easy tear-off line and a write-on tab for convenient labelling. Its self-standing design allows for easy filling and handling, and its flat shape saves freezer space.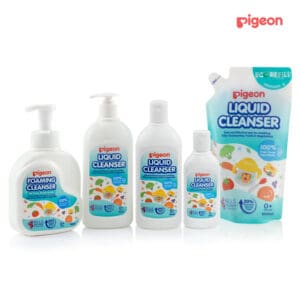 We believe that every parent wants to ensure that their little one's feed is clean and comfortable. The Pigeon Liquid Cleanser is the one for you! This plant-based cleanser is made from 100% food-grade ingredients and is perfect for cleaning nursing bottles, nipples, infant accessories, and even fruits and vegetables. With an easy-rise formula, you'll be saving the Earth and worrying less about soapy residue. For those who enjoy a refreshing citrus scent, Pigeon Liquid Cleanser Yuzu offers the same great cleaning power as the original formula, but with the added benefit of a delightful fragrance.
Give Your Baby The Best With Pigeon 
With so many baby products on the market, it can be overwhelming to decide which ones are worth investing in. We've carefully curated a series of high-quality products that we believe will make your life as a parent easier and your baby happier. Check out our selection today and discover the best products for your baby, only at Pigeon!
New Parent Survival Guide: Must-Have Newborn Baby Products
---
---